1. The Chinese tourist returns…
The China border finally reopened this week. Just in time for the start of "chun yun", the 40-day period of Lunar new year travel. Some 2 billion trips are expected this season!
As a reminder of just how big the Chinese tourist market is – in 2019 Chinese travelers represented the #9 most populous country in the world (or >155 million people). And spent over US$255 billion, or basically Vietnam's GDP. They represented 17% of the global outbound travel market, and made up 50% of overseas luxury spending.
​​​​​​
It looks like China has stopped googling Covid and started googling travel, like the rest of us!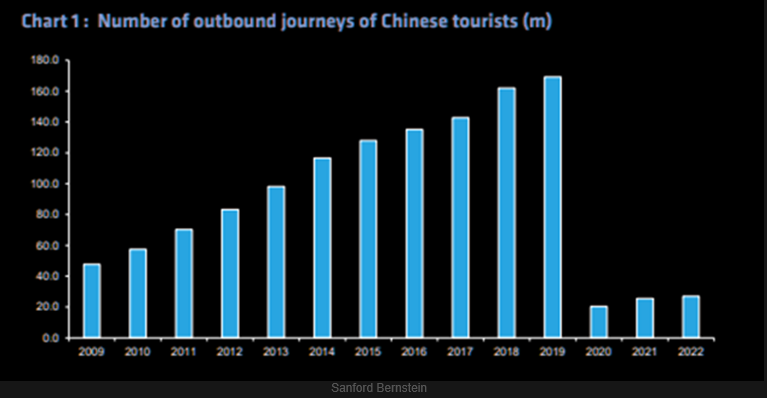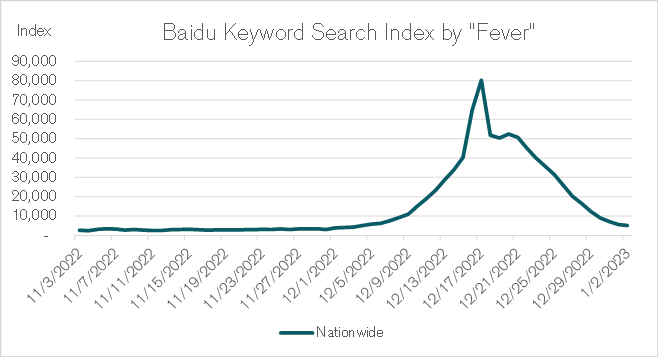 Source: Stanford Bernstein
2. Tesla bargain…
Amongst all the inflation talk, we've found you a deal. Tesla's are on sale!
Tesla has trimmed as much as $3,400 from the cost of its Model Y and $3,100 from the cost of its Model 3 electric vehicles in Australia. They also cut prices in Japan, South Korea and China.
An entry-level Model 3 fell to $63,900, cheaper than its 2019 launch price. And Model Ys are back to their original launch price of $68,900. Australian sales of electric vehicles nearly doubled in 2022, according to the Federal Chamber of Automotive Industries.
But this hasn't stopped the Tesla tumble. It's fallen out of the top 10 companies in the S&P, as its market cap dropped by as much as the combined market cap of other major car manufacturers.
Source: Statista
3. Around the Australian grounds…
As we kick off 2023 we've rounded up charts showing the state of Australia:
Nominal retail sales rose in November at the fastest pace since January 2022 due to strong black Friday sales and promotional activity. But retracement is expected in the December period…ANZ card data has indicated consumer spending declined 4% y/y through the first week of 2023, which marks the worst start to consumer spending for 5 years.
Overseas travel by us Aussies picked up sharply from November, hitting 80% of pre-Covid levels despite the increased fare costs.
Freight costs on imports into Australia fell 18%m/m in November, as global freight shipping costs continue to fall heavily. Shipping costs from China to America's west coast are down 93% from their peak in September 2021, according to Freightos.
Australia had its first net migration loss since the second world war in 2020-21. But we are well on track to return to pre-pandemic levels in 2022-23.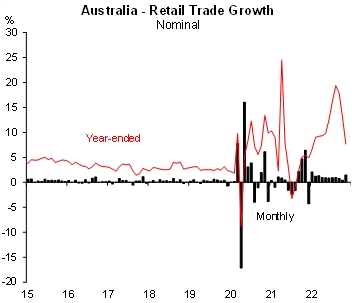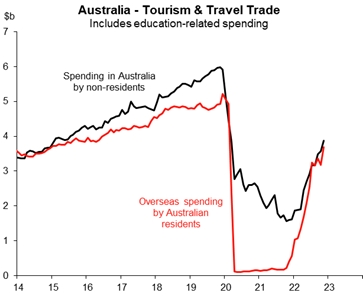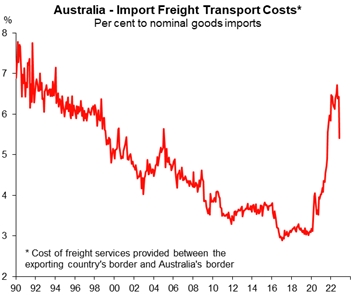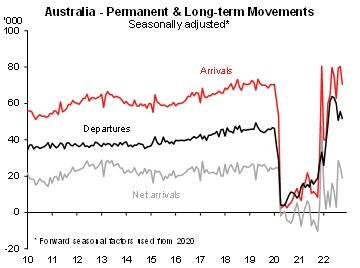 Source: Macquarie