The good oil… getting clean exposure to energy markets
As energy markets have rallied this year, many sustainable equity strategies have been left behind. This is mainly due to a lack of exposure to Energy companies. In this Firetrail Insights piece, we outline the approach the Firetrail S3 Global Opportunities Fund takes to ensure investors are getting the best of both worlds. Exposure to energy markets via sustainable businesses.
The energy squeeze
A combination of increasing demand as economies reopen, and the constrained supply from the Ukraine crisis has led to the price of Brent crude oil rising by more than 40%. Russia is one of the world's largest producers of oil, and the supply disruption in global energy markets has been significant as sanctions have been imposed.
Within the global share market, most oil producers sit within the Energy sector. Between 2018 and 2020 investors that excluded the Energy sector outperformed – adding nearly 3% returns above the benchmark. Since the start of 2022 the tide has turned, and Energy stocks are now significantly outperforming the global index. For a more traditional, exclusions based ESG fund, this can mean missing out on a source of returns that mainstream investors are getting.

At Firetrail we have scoured the global equity investment universe to ensure that investors in the Firetrail S3 Global Opportunities Fund can continue to get exposure to these pricing dynamics in a clean and sustainable way.
A renewable fuel play
The words "renewable" and "diesel" aren't often heard together, but renewable diesel is exactly what US listed Darling Ingredients produces. Renewable Diesel is a 100% replacement for regular, fossil fuel derived diesel. No modifications to the pump infrastructure, or vehicle engines are required. They are near chemically identical.
Darling is the largest collector of used cooking oil and animal fats in North America. Using its refinery technology, it turns used cooking oil into renewable diesel. Darling has over 45% share of the feedstocks for renewable diesel and will benefit as the industry is projected to triple in size over the next three years.
Darling sells most of its renewable diesel into the Californian market. For doing so it not only receives a price equivalent to the diesel price, but also a federal tax credit, a federal renewable fuel standard subsidy, and a credit in the Californian Low Fuel Standard scheme. Darling Ingredients receives about double the price of regular diesel as its revenue. In its most recent report, California has also indicated that it wishes to grow this liquid biofuel market even more, and signs are that other states are going to follow suit.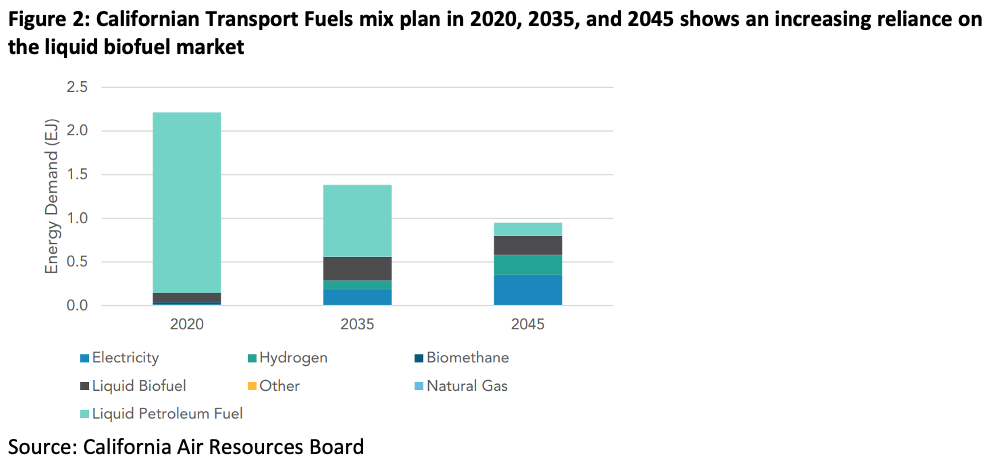 Oil is not the only supply constrained commodity
Prices at the petrol pump might be causing oil to grab the headlines, but there are many other commodities that have seen similar pricing dynamics, see Figure 3.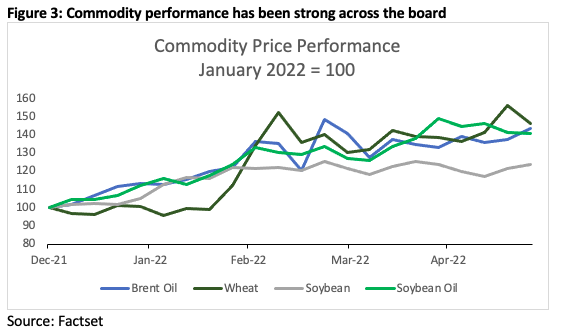 One of the additions to the Firetrail S3 Global Opportunities Fund in the past 6 months has been Archer Daniels Midland (ADM). ADM is one of the world's largest agricultural processors and distributors. It isn't the grower of the crops, it is the enabler to ensure the crops get to their best end markets, and ADM earns fees for doing so. ADM has a market capitalisation of $55b USD and is listed in the US.
A key part of ADM's business is the crushing of soybeans into soybean meal (used for food and feed) and soybean oil, for which ADM earns a "crushing margin". This crushing margin has been increasing as soybean oil is increasingly in demand as a feedstock for renewable biofuels.
A better approach
By maintaining a flexible approach, and scouring the globe for ideas, the Firetrail S3 Global Opportunities Fund is ensuring that investors can have both a sustainable approach and find great returns. Rather than buying into Exxon or Shell, we have found better opportunities in global companies such as Darling Ingredients and Archer Daniels Midland.