Why we expect gold, and one ASX-listed gold miner, to shine in 2023.

For over 5,000 years, gold has been the world's ultimate store of value. Alternative currencies – like cowrie shells, copper, and now paper – have risen and fallen over the ages. But gold has outlasted them all. Gold's appeal is in its aesthetic qualities, malleability (making it easy to produce coins and jewellery), and scarcity.
To this day, gold is a widely trusted safe haven for investors. When uncertainty is high and risks are elevated, investors typically rush to the safety of gold. With a Russian-Ukrainian war, rising US/China tension and fears of global recession, 2022 should have been a breakout year for gold. However, the gold price finished the year slightly below where it started.
In this insights piece, we examine:
The headwinds that stopped gold from shining in 2022,
Why the headwinds appear to be becoming tailwinds in 2023, and
The fantastic opportunity in ASX-listed gold miner Newcrest Mining.
Gold lacked lustre in 2022
The gold price started 2022 strongly following the outbreak of war between Russia and Ukraine. However, the strength was short-lived. The fastest global interest rate hiking cycle in history began in March 2022 and was the dominant force driving the gold price for the rest of the year.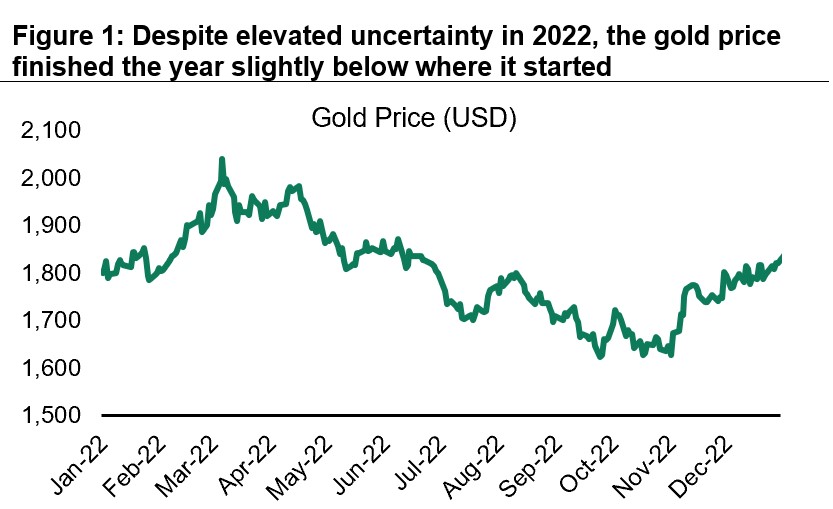 Source: Factset, Firetrail
Higher interest rates increase the yield investors receive on fixed income securities. Investors were understandably less likely to hold gold when risk-free short-term deposits yielded over 4% per annum by the end of 2022.
Rising US interest rates also led to a strong US dollar which further reduced the attractiveness of gold. The US dollar strengthened considerably against other currencies in 2022. Given gold is priced in US dollars, a stronger US dollar made gold more expensive to buyers around the world.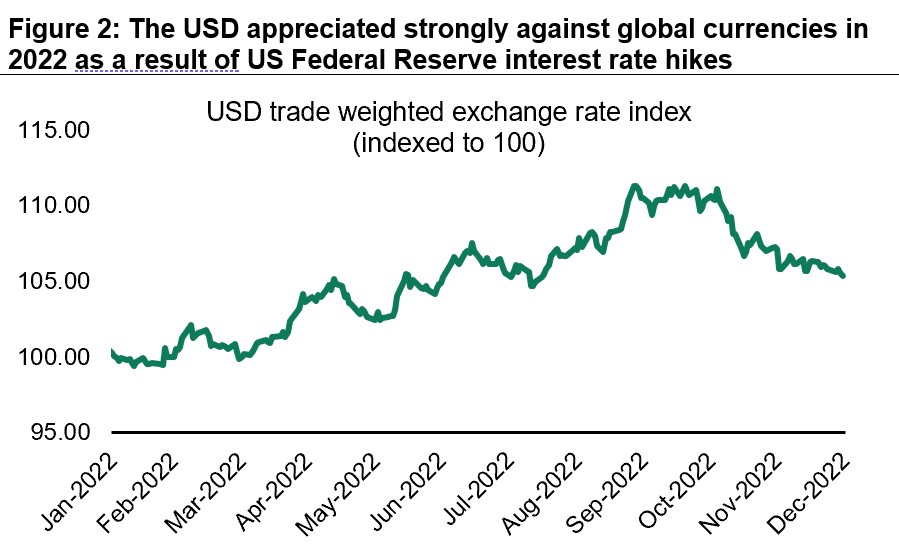 Source: Firetrail, Factset
On top of weak gold price performance, rising labour and input costs put further pressure on gold miner earnings during 2022.
Headwinds to tailwinds
With inflation starting to fall and cracks appearing in the global economy, we believe we are nearing the end of interest rate hiking cycles. Geopolitical risk remains high with the war in Ukraine ongoing and US-China relations still tense. As a result, 2023 is shaping up to be a favourable environment for gold price outperformance. Gold tends to outperform in periods of heightened geopolitical risk, falling interest rates, a weaker US dollar, and strong gold demand.
With an inverted US yield curve, bond markets are predicting the US Federal Reserve will have to cut interest rates once they have broken the back of inflation. The market is expecting interest rates to peak in the next 6 months followed by rate cuts in late 2023 / early 2024.
When the interest rate hiking cycle eventually comes to an end, the US dollar will lose what was a significant tailwind in 2022. We also see long-term risks to the US dollar's global pre-eminence due to the significant increase in US money supply since 2020, trillion-dollar fiscal budget deficits and eye-watering national debt levels.
Most importantly, gold is now back on global central banks' shopping lists. Despite a subdued first half of the year, 2022 central bank gold purchases were the highest on record with net purchases of 1,136 tonnes. 80% of this came in the second half of the year. A recent World Gold Council survey suggests the momentum will continue. A quarter of central banks surveyed indicated that they expect to increase exposure to precious metals.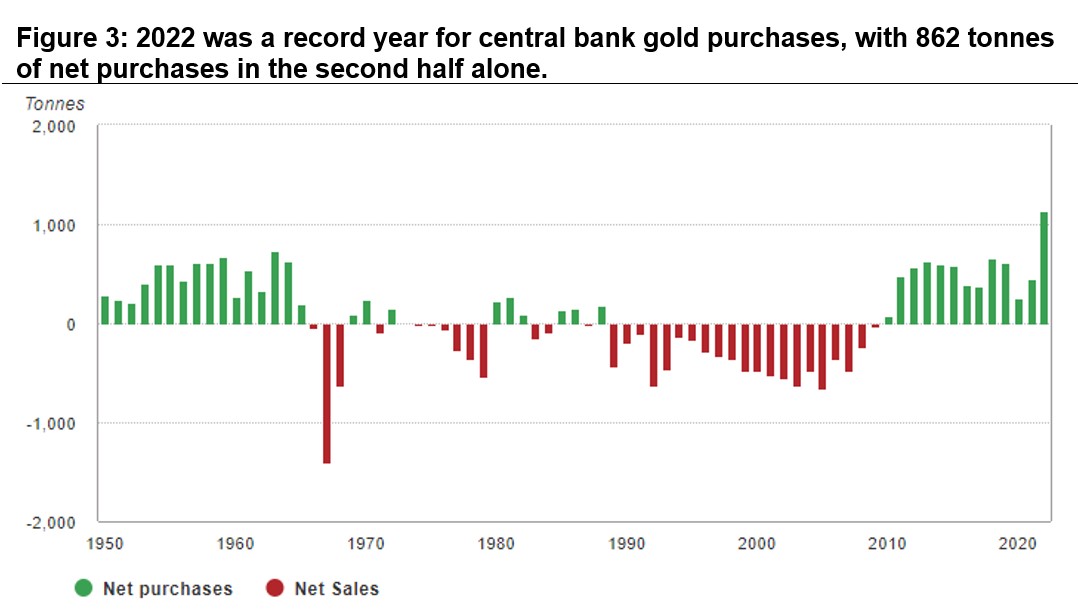 Source: Metals Focus, Refinitiv GFMS, World Gold Council
The gold price has shown early strength in 2023 in anticipation of these tailwinds. Continued appreciation will be positive for gold equities.
Newcrest Mining – low-cost, long-life miner attracting takeover interest
Newcrest Mining (ASX: NCM) is a high conviction position in the Firetrail Australian High Conviction Fund and Firetrail Absolute Return Fund. With a portfolio of high-quality low-cost, long-life assets, the company is well positioned to benefit from a stronger gold price.
Newcrest is the largest gold producer listed on the ASX. It operates two of the world's ten largest gold mines – Cadia (Orange, NSW) and Lihir (Papua New Guinea). Cadia and Lihir are highly cash generative, and Newcrest is using this cash to fund high-returning growth projects such as Red Chris (Canada), Bruce Jack (Canada) and Wafi Golpu (PNG). In the next few years, Newcrest's portfolio will move from three to six tier one mines. To put it into context, there are only fifteen tier one mines in the world.
Newcrest also has a robust balance sheet and is trading at a significant discount to global peers. At today's gold and copper prices, we believe NCM is worth $29 per share, implying 25% upside to today's price.
Other global gold mining companies have also recognised the value in Newcrest's assets. In early February 2023 Newcrest received a takeover offer from Newmont, the world's largest gold producer, at an implied valuation of around $26.40 per share (a 22% premium to the pre-offer share price). Newcrest knocked back the offer but has kept the door open for a renewed higher bid.
We are pleased to see that the value of Newcrest's assets is being recognised in the market, and continue to engage with the Newcrest Board and management to pursue the best outcome for shareholders.