Aristocrat is a A$27bn company operating in the gambling and entertainment industry. It sells and leases physical slot machines (Gaming), and produces online games played predominantly on mobile devices (Digital). Firetrail invested in Aristocrat in April last year because we believed the business was adequately fortified to negotiate the short-term pressures presented by Covid and that it would emerge from the crisis in a much stronger competitive position.
More than one year on, and despite sitting above where it was trading relative to the market pre-Covid, Aristrocrat remains a top portfolio holding in the Firetrail Australian High Conviction Fund for three key reasons:
Its strengthened position in Gaming post-Covid and our expectation of continued market share gains;
The upside opportunity offered by entry into the nascent iGaming industry;
Its conservative balance sheet position, with less than 1.0x gearing in September 2021
US gaming is booming
Aristocrat's US Gaming business has been a success story for over a decade, consistently producing the best performing slot machines and gaining share from other incumbent operators. However, nothing could shield Aristocrat from the fact that when casinos are shut, gaming revenue goes to zero (as it is earned either from the outright sale of slot machines or as a share of machine revenue).
During this 'peak-Covid' period, Aristocrat used its strong balance sheet to position itself to benefit when casinos reopened. Specifically:
Casino customers were offered financial and operational support;
Temporary pay cuts were enacted to minimise redundancies; and
R&D teams were maintained at full capacity to ensure a strong game pipeline.
This enabled Aristocrat to hit the ground running as casinos opened back up over the second half of 2020. With the US economy brimming with stimulus, and some other entertainment/travel options remaining inaccessible, casino revenues have since gone from strength to strength. Incredibly, even though some restrictions are still in place and a reasonable number of casinos remain closed, Mar-21 and Apr-21 casino revenues were 10% and 24% above pre-Covid levels, respectively.
Covid has driven a greater focus on optimisation of slot layouts, which has further skewed floor share and revenues towards Aristocrat's machines. As shown below in Figure 2, Aristocrat gained an additional ~2% share of the US leased game market between Dec-19 and Mar-21. Even though it now owns more than 1/3 of all leased machines in the US, we believe its high level of R&D investment versus peers will underpin continued share gains from here.

iGaming plays to Aristocrat's strength in content
iGaming is a term that refers to online casino gambling, or more simply, casino games like slots and blackjack that can be played on a mobile phone. It is currently generating annualised industry revenue of ~$3.5bn across six states in the US, with potential for more states to follow, albeit at a slower pace than online sports betting. Given Aristocrat's strength in land-based casino content, there appears to be a latent opportunity in iGaming, but how significant could it be?
New Jersey has the longest history of iGaming. It was legalised in the state in 2013 but really only took off after online sports betting started in mid-2018. It has now grown to be ~30% of the size of the land-based casino market by revenue.
Somewhat surprisingly, iGaming's recent success does not appear to have come at the expense of land-based casinos. Over the period leading into Covid, New Jersey's land-based casino revenue was growing at ~20% (versus 6% across the USA) despite the fact that iGaming was growing at 70%. It is still early days in most other states, but benchmarking the US to Australia on gross gaming revenue per capita suggests that there is room for both the land-based and online casino markets to grow in the US.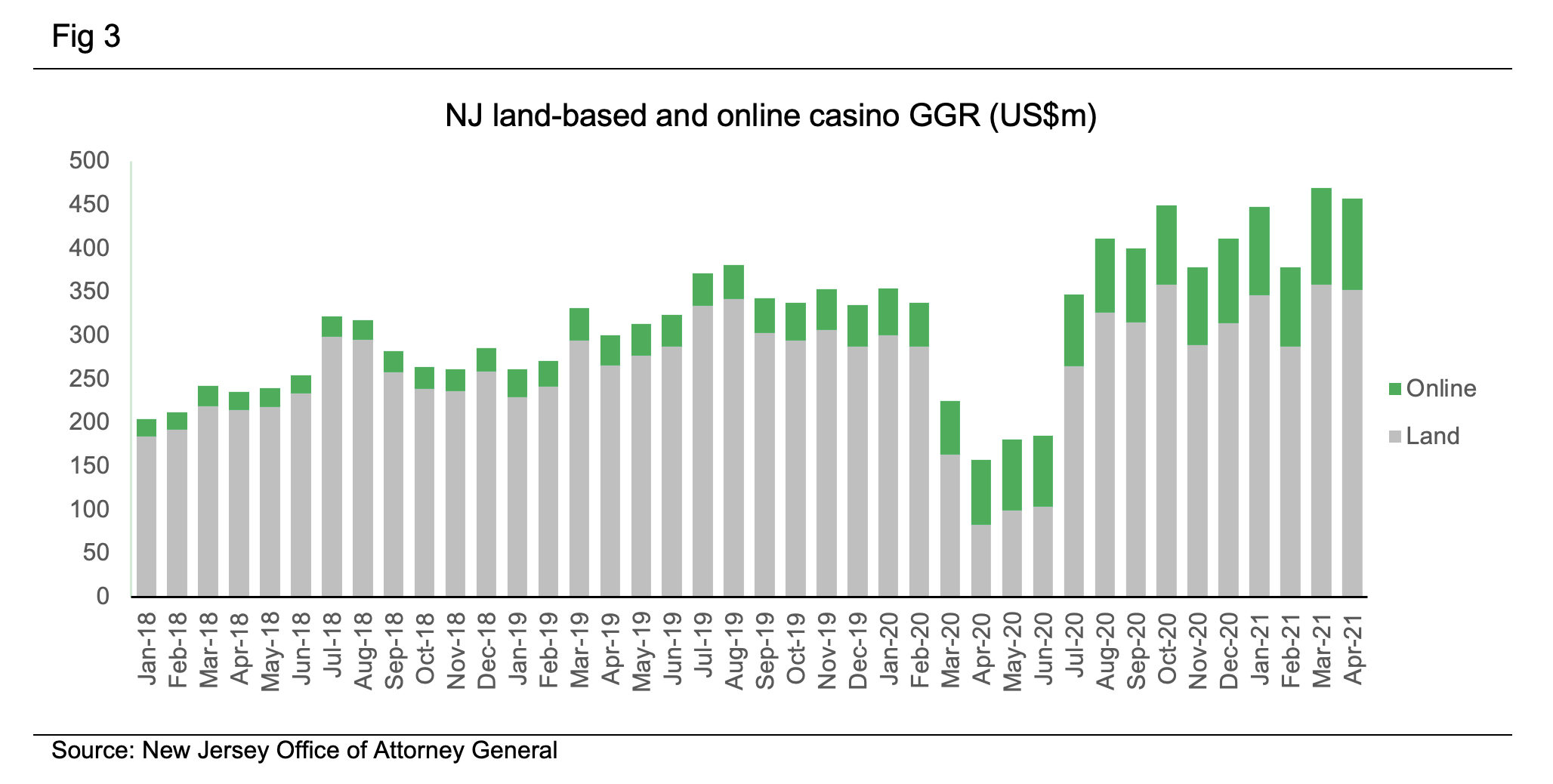 A more difficult question to answer is what parts of the value chain Aristocrat would like to target in this market. Early evidence suggests that superior land-based content does translate to the online world:
"170% more GGR per game on slots recognised from US casino floors vs unknown international slot games" – US iGaming platform provider, GAN.
It thus appears likely that Aristocrat's content will have high monetisation potential in iGaming. It could pursue a strategy of making its content broadly available to the whole iGaming market, or pursue a more narrow segment of the market and tie it to a platform offering to capture a greater share of the value chain. We think iGaming has the potential to add up to 10-15% to group EBIT over the next 3-5 years, and would give Aristocrat leverage to a high growth, recurring revenue market. We remain tuned for further developments.
Conclusion
At Firetrail, we believe Aristocrat is well positioned to continue to consolidate its competitive position in the US gambling and entertainment industry beyond its strong post-Covid recovery. We anticipate that high levels of R&D will underpin continued market share gains. Furthermore, entry into the iGaming industry provides a latent upside opportunity, which we believe will grow alongside, not at the expense of, the land-based market.
Aristocrat is a key position in Firetrail's high conviction portfolios.