1. Takeover territory​…
It was one of the busiest years on record for corporate activity in Australia, with over $300 billion in announced M&A and over $12 billion worth of IPOs hitting the local market. 179 companies listed on the exchange, the most in decades. But it was an interesting time to be a takeover target. We saw Afterpay get taken over, in the biggest transaction of the year ($39 billion), but due to a scrip bid from the US listed Square, the stock was a market performer versus pre bid!
Even our own Oil Search, with a takeover, performed in line with market. We think the outlook for energy is bright and are excited about 2022 as a chronic undersupply is underway, maintaining our high conviction position in the combined SantOSH.
Afterpay Share Price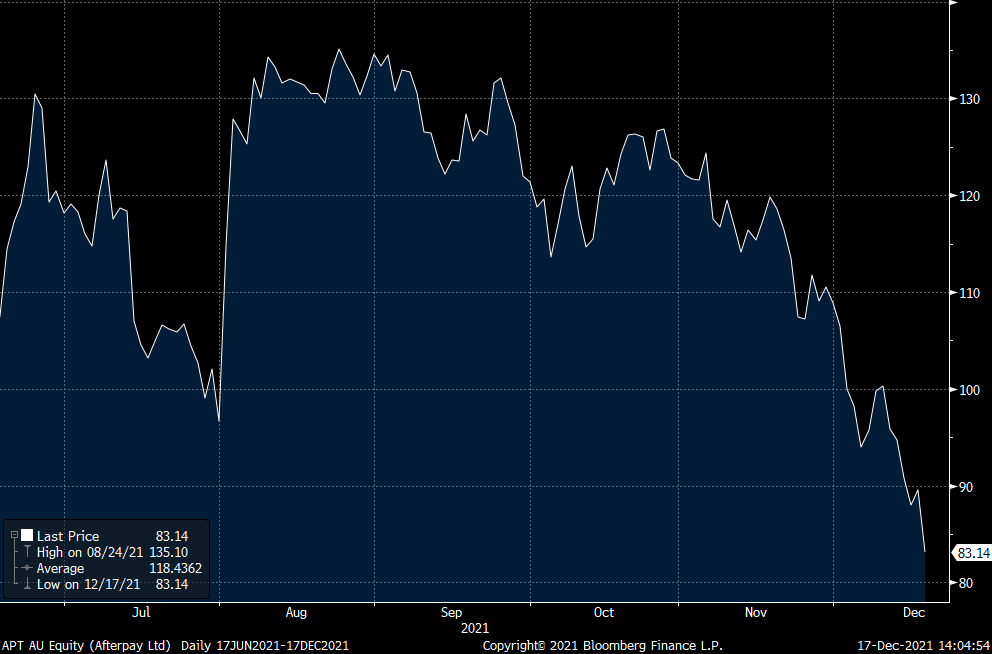 Source: Bloomberg
2. More Tiiimber…
The timber price has bounced back again recently, as seen in the chart below on US lumber which is mainly used for framing houses. This has been on the back of a couple of factors:
Increasing demand – the backlog of houses to be built is just getting bigger! Despite the increasing chatter about interest rate hikes the US homebuilder share price index is exiting 2021 at record highs and a 48% return over the year
Wood as a sustainable building material – there are now 18 storey high buildings made just from wood, no concrete or steel beams!
Supply may start to get constrained as carbon prices increase – revenue is earnt by storing carbon rather than harvesting for the wood.
If you're wondering how you can get exposure to some timber, the Firetrail S3 Global Opportunities Fund holds a high conviction position in Weyerhaeuser, the largest forest owner in North America!
Lumber Price
Source: Bloomberg
3. The wind beneath ESG…
ESG tailwinds was the BIG thing for small caps in 2021. Many small cap stocks are beneficiaries of the ESG tailwinds including those stocks exposed to the raw materials required for decarbonisation. These stocks helped propel the small cap index to a ~18% return CYTD. Many of these stocks were 2, 4 and even 6 baggers over CY21!
Carbon drove most of our Firetrail engagement on the "E" in ESG during the year. Pleasingly, many of our companies released sustainability reports and emissions targets/data for the coming years. The price of Australian carbon credit units rose from around A$16/t in early 2021 to A$45 by mid-December driven by demand from companies seeking to offset their emissions (and financial market participants). Corporates are moving ahead of legislation in order to meet climate targets and this is creating large opportunities across our investment universe.
IPO and pre-IPO opportunities were plentiful during the year. The Firetrail small cap team looked at over 100 separate transactions and participated in 14 IPO's. We also invested in one pre-IPO opportunity, Xpansiv. Xpansiv is the largest global voluntary carbon market trading platform and 2021 saw volumes increase by some 300%. We believe this is just the beginning and are excited for Xpansiv to debut on the ASX in 2022.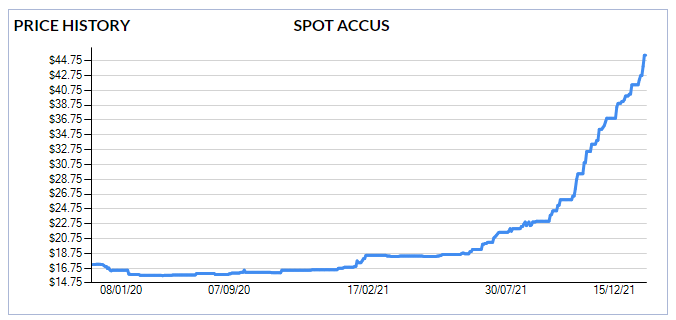 Source: Firetrail, ACCU
Chart of the Year
It's a big call to make, but we can't go past the tidal wave of money that has come into equities this year. Inflows to equities exceeded the combined inflow of the past 19 years! Excuse our language, but "BTFD" was probably the most overused word of the year too!