1. Job hunt…
As we reopen in NSW, looks like there is lots of jobs going in retail/hospitality, and no one to fill them!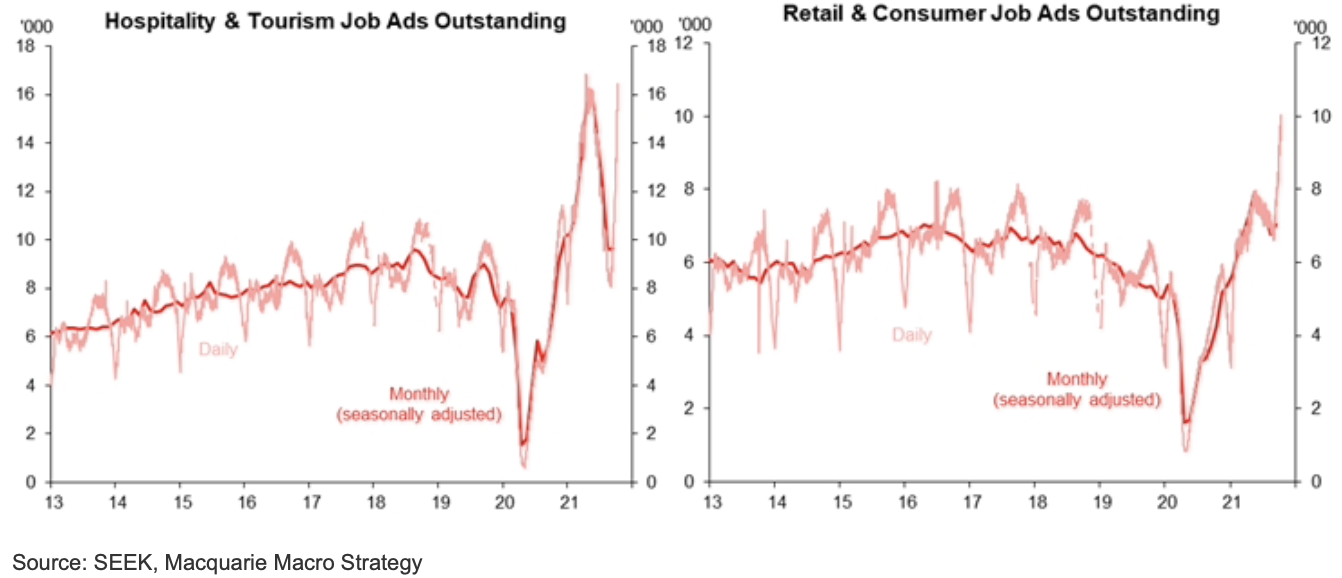 2. Housing speed limit…
APRA recently adjusted their home loan serviceability assessments to use an interest rate buffer of 3% p.a., up from 2.5% p.a. previously, which is likely to reduce borrowing capacity for certain home loan applications. This comes as 65% of new home loans funded have a debt-to-income ratio (DTI) > 4x (and 22% > 6x). the average home loan size has also passed 7x the median household income.

3. Short on supply…
Supply-chain issues were once again in focus this week, with President Biden even holding a press conference to address the matter and initiatives they are taking to try and ease the bottlenecks. We have rounded up some news items from the week showing how widespread supply issues are:
Cotton prices surged to a 10-year high as extreme weather (droughts and heat waves) has wiped out cotton crops across the US, who are the biggest exporter of the commodity in the world. So far higher costs are being passed along to consumers as manufacturers and retailers have pricing power, including Levi Strauss.
Cotton futures could pressure margins for smaller Australian retailers, like Kmart. Although judging by the lines outside their stores on Freedom Day (see picture below) customers may also be willing to pay up.
The ASOS CEO left with immediate effect as the company warned supply chain pressures and consumers returning to pre-pandemic behaviour could reduce 2022 profit by >40%
Coffee farmers in Colombia, the world's #2 arabica producer, have failed to deliver up to 1m bags of beans this year or nearly 10% of the country's crop, leaving exporters, traders and roasters facing steep losses. World coffee prices have soared 55% this year, mainly due to adverse weather in top producer Brazil.
Apple is expected to slash iPhone production by 10M phones due to the global chips shortage
Lebanon suffered a 24-hour blackout over the weekend as the country's 2 main power stations were shut down due to fuel shortages.