1. Inflation watch…
Headline October US CPI printed at 6.2% y/y, up 0.9% on a seasonally adjusted September print, and well above the 5.9% estimate from economists. It was also the largest annual increase since 1990. Price growth was observed in almost all categories, adding weight to the structural side of the structural vs. transitory debate, with inflation above 5% for 5 months straight. November is expected to have another CPI increase as gasoline prices continue rising and demand for core goods remains strong.
Following the data release, traders moved up their expectations for when the first Fed rate hike would occur. The Fed funds futures market now sees greater odds of the central bank's first full rate hike coming in July 2022 (vs previous expectations for September 2022).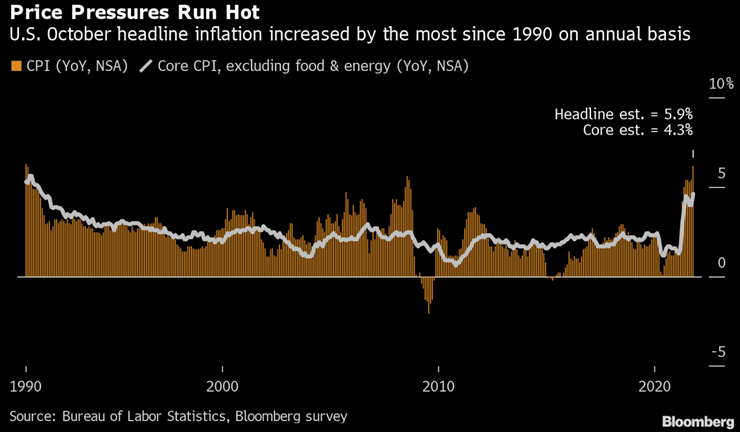 2. More jobs…
Not only has job advertising bounced back strongly as lockdowns end across Australia, SEEK's Candidate Availability Index is not pointing to much, if any, increase in unemployment upon re-opening. The October employment report had the highest job ads posted in a month in SEEK's 23+ year history, with SEEK job ads in Australia +10.2% m/m.

Source: SEEK
3. Equities just catching up…
We spoke about the massive retail inflows into the market last week. And it's interesting to consider this in the context of other asset flows. Since 2016, $4.7trn has gone into bonds and cash. $495bn has gone into equities. There is still a lot of room for this gap to close!

Source: Goldman Sachs