1. Full of beans…
It's an oil chart…but a different kind of oil! The Soybean oil price has been on a tear as demand has been strong along with constrained supply. Its nearly tripled in price over the past three years.
Soybean oil is used for sustainable biofuels and food, and the world can't get enough of it. Soybeans contain 19% oil and 34% protein. The world has increased production of soybeans by 7x in the past 50 years.
S3 Global Opportunities portfolio holding Archer Daniels Midland (ADM) is one of the largest crushers of soybeans in the world to create this oil. On their results call this week they talked about strong markets to come for several years yet.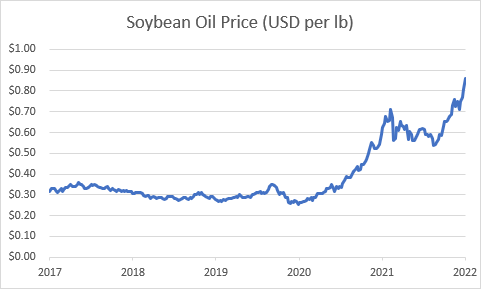 Source: Bloomberg
2. The buyers are back…
Now that borders have reopened Australia is seeing an influx of foreign students. NAB's survey of Australian housing market participants suggests that the share of new homes bought by foreigners is also on the rise.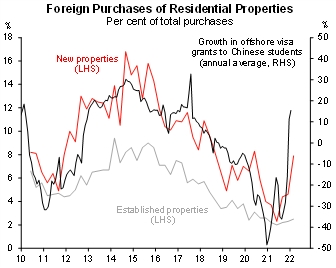 Source: Department of Home Affairs, NAB, Macquarie Macro Strategy
3. Tap and go…
Mastercard and Visa gave confident updates this week on the state of consumer spending. Mastercard said overall spending on the company's cards jumped 22% to $1.52 trillion. Overseas spending climbed 53%! They also said that in the first three weeks of April, cross-border travel was up 38% versus Q1. Cross-border travel is now at 110% of 2019 levels.