1. Food fight…
World food prices jumped nearly 13% in March. The Food and Agriculture Organization's (FAO) food price index hit a new record last month, following what was a record print in February. And is now up more than 50% since mid-2020. The war in Ukraine has caused turmoil in markets for staple grains and edible oils. Russia and Ukraine are major exporters of wheat, corn, barley, and sunflower oil. Meanwhile the Biden administration announced temporary plans to allow higher ethanol blends in gasoline to help lower consumers fuel costs. The use of gasoline with 15% ethanol, dubbed 'E15', is set to raise demand further for corn and other 'biomass' products.
The looming food fight bodes well for the agriculture exposed stocks across the Firetrail funds – including Archer Daniels Midlands in the S3 Global Opportunities Fund, and Nufarm and Incitec Pivot in the Australian funds.
UN Food and Agriculture World Food Price Index – Price change (1 month %)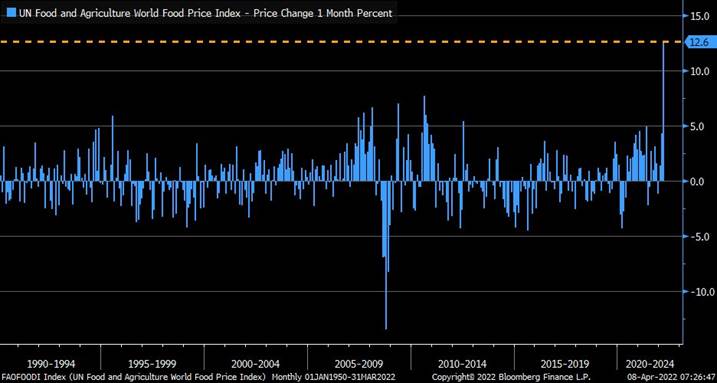 Source: Bloomberg
2. All in the price…
Electric vehicles (EVs) have not escaped the impact of the volatile commodity moves of late. The price differential between internal combustion engines (ICE) and EV raw materials has gone from USD ~$2,000 to now USD ~$6,000, as shown in the chart below. This means Battery EV's are about to get $4,000 more expensive holding all else equal. The price move makes sense given lithium is in short supply and the market is trying to slow down demand. We wait to see if this impacts EV penetration rates over the coming months.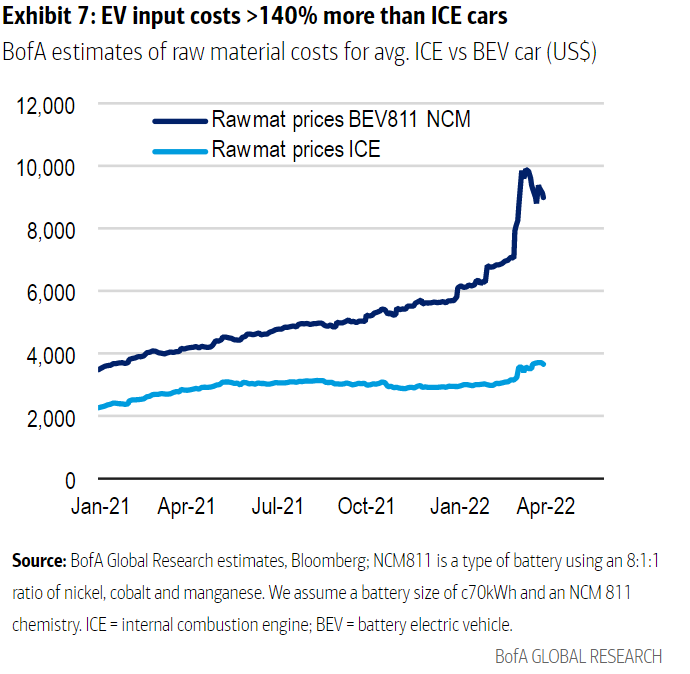 3. Time to Fly…
Delta Airlines reported a March quarter beat this week. Their CEO commented that "for the last month we have seen the highest sales and booking activity on Delta than any time in our history," despite offering only 90% of its pre-pandemic seats for sale. And we've all heard about the chaos happening at Sydney airport right now due to staff shortages and 'rusty' passengers! Spending rose again through March in Australia, and we are keeping an eye on the rising overseas travel spend…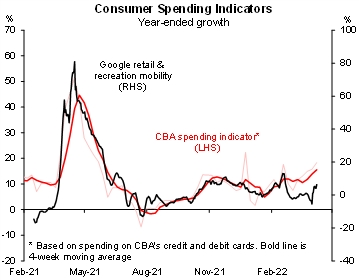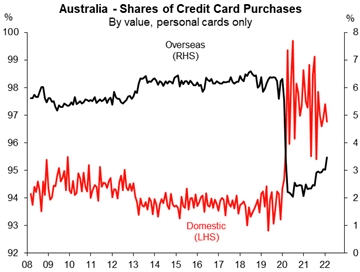 Source: ABS, CBA, Google, RBA, Macquarie