1. Workers needed…
If you needed more data points on how tight the global labour market is, Vail resorts (a current holding in our S3 Global Opportunities Fund) is increasing its minimum wage to $20 per hour. This may not sound significant relative to what we are used to in Australia but for context, minimum wage was $12 just a year ago.
Wage inflation is likely to be a persistent theme for consumer facing services businesses. We think Vail is better positioned than most given its strong pricing power arising from ownership of unique assets and leading market share amongst destination resorts. We expect Lift ticket prices to rise by 5% to cover some of the shortfall. Further, Vail Resorts also benefits as a "re-opener" with international tourists finally set to return…We're sure there will be plenty of Aussies hitting the slopes next Winter visiting Whistler, Vail, Park city or any number of their 40 resorts across North America!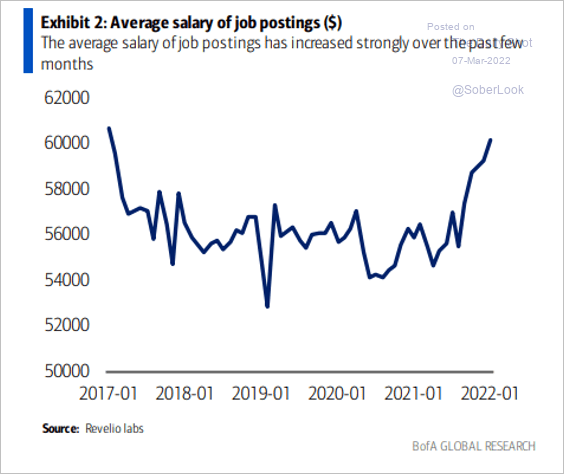 2. Transitory is history…
A round up of the inflation snippets from this week:
US single-family rental prices jumped 13% in January from a year earlier according to the CoreLogic Single-Family Rent Index.
SPC Global is passing on what the CEO is calling the biggest price inflation shift in his career. Baked beans, spaghetti and Goulburn Valley fruits are set to go up 10-20%.
Tesla is raising prices in the US and China by 3-5%. The cheapest Model 3 in the U.S. is now US$46,990, according to its website.
History shows that the best performing sector in the US during rate rises has been the Tech sector. REITs second best is also surprising given the impact of higher rates is usually seen as a negative. But this time there is the US $9 trillion Fed balance sheet to consider as well…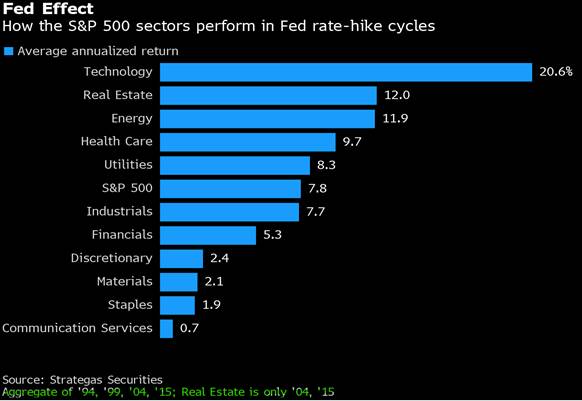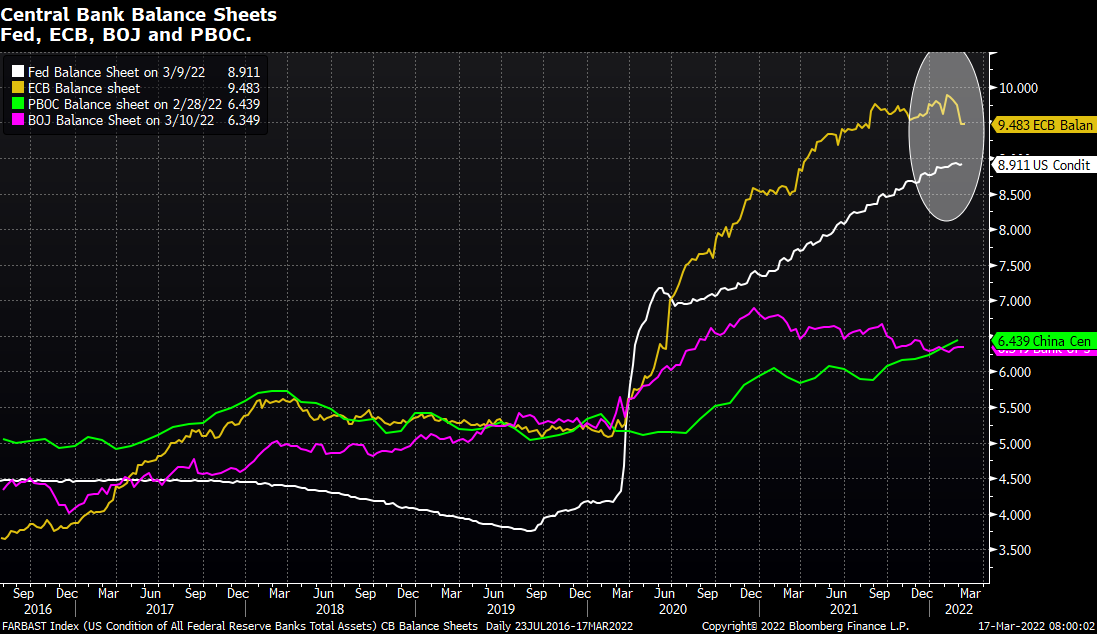 Source: Bloomberg
3. Suits OUT, Meat-free Sausages IN!…
In a sign of the times, the UK statistics office announced changes to its inflation basket this week.
Items Deleted: Men's suits, coal, and doughnuts.
New items added: meat-free sausages, sports bras, craft and hobby kits for adults and pet collars
We aren't sure that 'coal' was ever in the basket, but we don't argue with the statistics experts!