1. Cabin clear for take-off…
The Barclays team track credit card transaction activity to gauge spending in the US & UK on airlines & travel agencies. And the data indicates total airline spend for US and UK cardholders is back to ~5% above 2019 levels! Internet search interest for US airlines increased this week, and is now at ~90-95% of pre-Covid levels ("PCL"). And European airline interest continues to increase, now at ~75% of PCL, its highest since the start of the pandemic. More interestingly, US interest in "passport renewal" is at ~105% of pre-COVID levels.
The strong travel demand bodes well for portfolio holding Qantas. CEO Alan Joyce said demand to London & L.A. is above pre-Covid levels this week. But there has been some noise as oil prices continue to rise. Qantas gave an update this week flagging a potential period of higher air fares in light of rising fuel costs. But the CFO reiterated that the company is well placed to deal with this situation as their oil exposure is 90% hedged to June and won't be impacted in the short term. If you want to hear more on what matters for Qantas beyond the noise, check out the recent Firetrail analyst series here.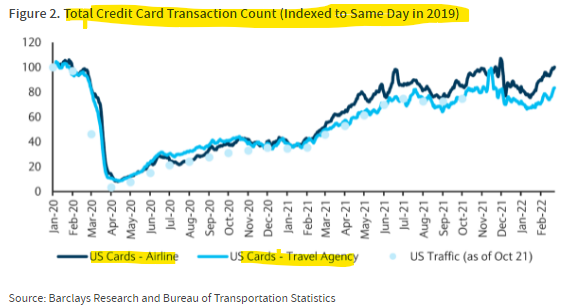 2. If I had a nickel for every time I sent out the weekly…
Nickel surged as much as 90% intraday on Monday, and closed up over 60%. It was the most extreme price move ever on the LME. And the highest price in the 35 year history of the contract. The LME subsequently suspended the nickel market trading, which remains in effect. It makes bitcoin look boring!
Buyers were forced into a historic short squeeze. While 7% of global nickel supply is from Russia, in the high purity LME grade nickel metal space Russia is ~20% of that supply. Tsingshan Holdings, the world largest nickel producer, had a short position on the LME in the region of 100,000 tons of nickel. The estimate for their losses on the day are over $8 billion.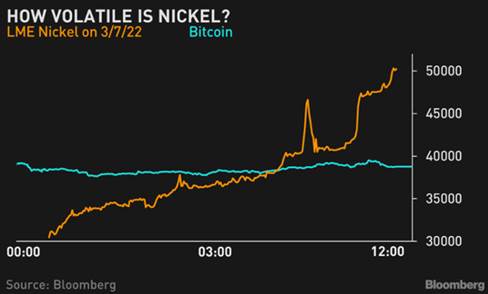 3. Cool property…
It's no surprise confidence has been hit by the current geopolitical tensions. The consumer confidence index dropped 4.2% to 96.6 points in March, Westpac said on Wednesday. That's the weakest result since September 2020, which was also the last time the index fell below the 100, the level indicating that pessimists outnumber optimists.
And the pessimism seems to have reached our housing market. Dwelling prices (in black below) are starting to cool. And Australians' views about the "time to buy a dwelling" have deteriorated to a new low since the GFC.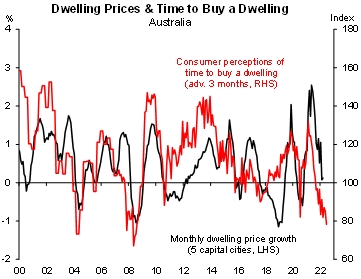 Source: CoreLogic, Macrobond, Westpac & Melbourne Institute, Macquarie Macro Strategy