1. It's a deal!

The Newcrest Mining Board has agreed to a takeover bid by Newmont Mining this week. Newcrest shareholders will receive 0.4 Newmont shares per Newcrest share, plus a US$1.10 per share fully franked dividend. Newcrest is a high conviction position in the Firetrail Australian High Conviction and Firetrail Absolute Return Funds. We have long believed Newcrest's high-quality portfolio and growth assets have been underappreciated by the market.
We expect similar deals in the future where private buyers swoop in to buy undervalued listed companies with attractive assets. Origin Energy, Allkem, Estia Health and SILK Laser Clinics are other examples in the Firetrail portfolios currently under takeover proposals.

Source: Newcrest
Companies mentioned are illustrative only and not a recommendation to buy or sell any particular security.
2. Household costs are rising… but so are incomes…
There have been ample headlines about rampant inflation and Australia's cost of living crisis. Many are wondering why we haven't yet seen a meaningful fall in consumer spending. The chart below is one reason why the Australian consumer is holding up so well. Yes, costs for Australian households have risen. But, on average, incomes have risen by more.
Change in average household income / costs by financial year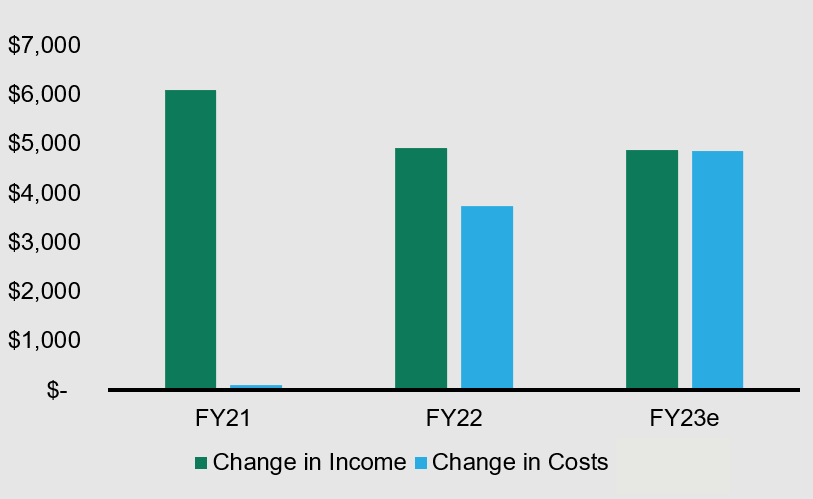 Source: ABS, Firetrail
3. Turning over stones…
The Firetrail S3 Global Opportunities team are turning over stones across the world at the moment. From site tours with existing portfolio companies, to meetings with exciting new opportunities. Here are some highlights from their trips so far:
James Miller has been pounding the pavement across the US. His research agenda has covered topics like battery technology, carbon capture and storage, and cybersecurity.
Oscar Hutchinson has been in London and Barcelona checking the pulse of global financials, copper for electrification, and energy infrastructure companies.
Annabel Riggs has been to the US, UK and Switzerland so far. Most interesting meetings have been in heating, ventilation, and air conditioning (HVAC), waste management, and biotech. As well as being a great analyst, Annabel is also our premier photo taker on overseas trips!