1. You're indestructible, always believe in…GOLD…
The USD gold price has come under further pressure recently as the US Federal Reserve continues to raise interest rates. However, the gold price denominated in AUD is near decade highs. The ASX Gold Index has historically followed the AUD gold price, but it is now trading at a large relative discount as shown in the chart below.
We believe the sell-off in Australian gold stocks is overdone, and rising recession risks lead us to believe gold is an attractive asset class for investors over the coming 12-months. We have used the recent weakness to add to our position in Australian gold producer, Newcrest Mining, which has a strong balance sheet and high-quality growth assets which are value accretive.
Spot Gold Price (in AUD, LHS) vs ASX Gold Index (RHS)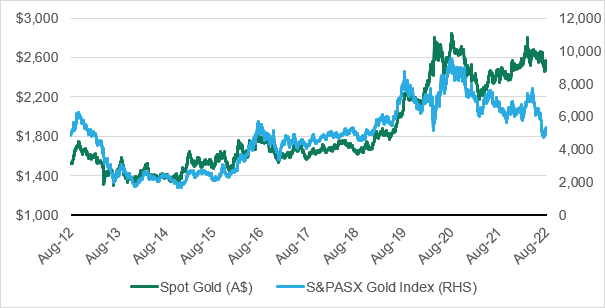 Source: Bloomberg
2. What Covid…
The US has added nearly a million jobs in the past 2 months! The labor market added 528,000 jobs in July, easily beating estimates of a 258,000 increase. And the unemployment rate has fallen to 3.5%. The US has now regained all the jobs lost through covid. And there are 1.8 job openings per unemployed person.
Meanwhile in Australia, there has been some tapering off in growth in recent weeks. But job ads for June remained strong being up 23% on pcp, with the situation much the same in Asia being up 65% on pcp. ABS data from June showed that over 25% of businesses are now reporting at least one job vacancy (compared to 11% pre-pandemic).
The candidate scarcity situation is adding a complex layer to the inflation debate for global central bankers…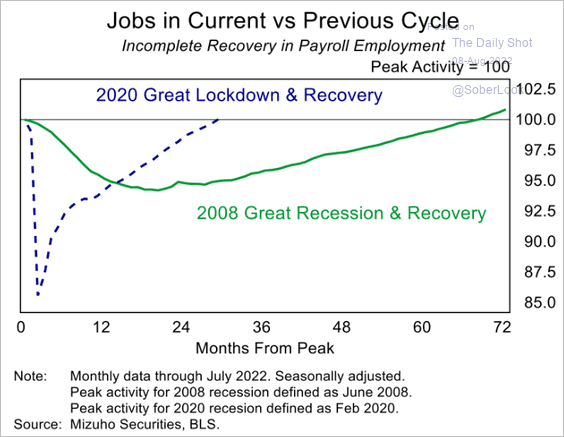 Source: Mizuho Securities, BLS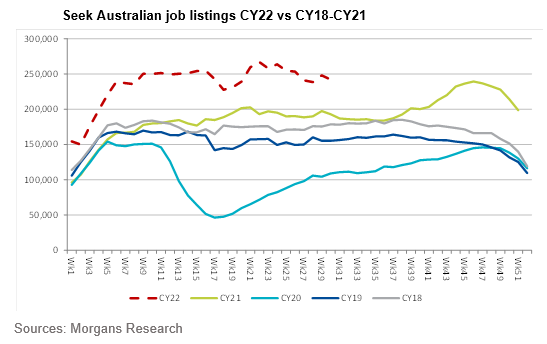 Source: Morgans Research
3. Oil is the new data…
According to Gas Buddy, a petrol discount app that has 12 million weekly active users, weekly US gasoline demand fell 0.01% week on week to the end of July. And was 2.6% above the average of the previous 4 weeks.
And while we've seen diesel prices start to drop off, there's been no cooling in renewable diesel (animal fats / used cooking oil). California is the biggest consumer of renewable diesels in the US and is progressing ahead of its carbon reduction targets. So much so that the California Air Resources Board (CARB) hosted a public workshop to discuss potential changes to their carbon targets. Among the proposals was a suggestion to increase the 2030 carbon intensity reduction target, which is currently set at a 20% reduction from the 2010 baseline by 2030. Potential changes included raising the reduction target to 25% or 30% by 2030. Which is good news for S3 Global Opportunities Fund holding Darling Ingredients.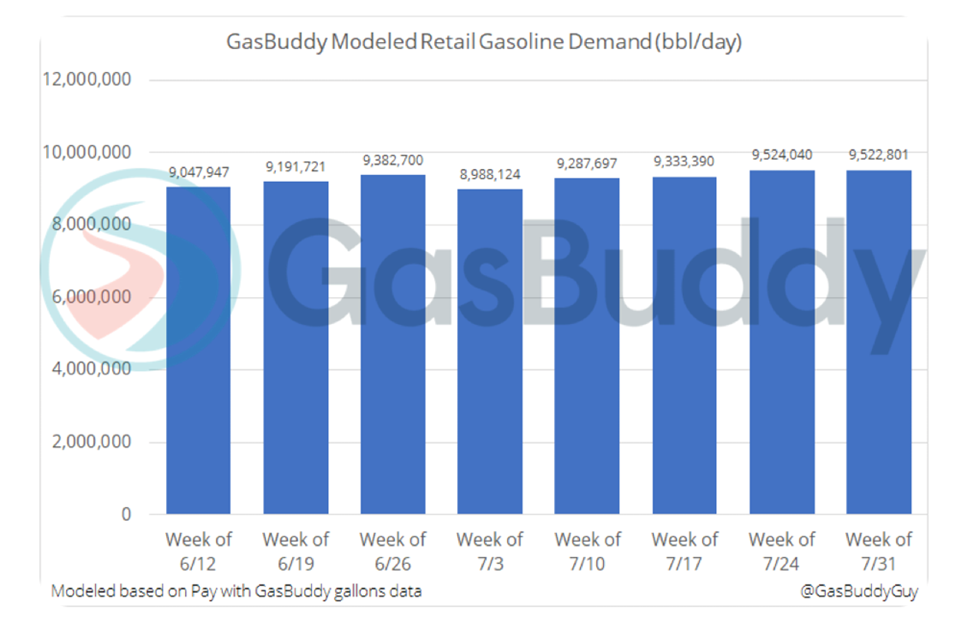 Source: Gas Buddy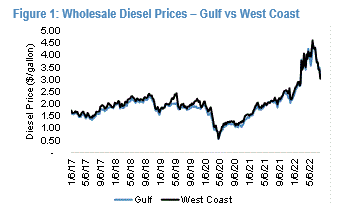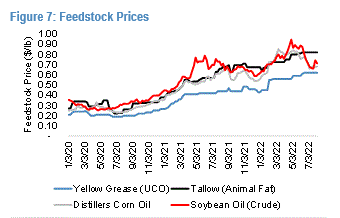 Source: JP Morgan