August 2021
ResMed is a $50 billion medical device company that specialises in the treatment of sleep-disordered breathing and other respiratory illnesses. It is a market leader in the production of cloud-connected medical devices.
ResMed's share-price has performed strongly in recent months, largely in response to a product recall by its main competitor Philips. Notwithstanding its near 40% rise, we believe ResMed remains a compelling investment opportunity with substantial valuation upside. In this article, we explain why.
ResMed 101
The most common illness treated by ResMed products is obstructive sleep apnoea – a condition in which sufferers stop breathing involuntarily for extended periods during sleep. It occurs because the muscles that support the soft tissues in the throat temporarily relax, narrowing or closing the airway such that breathing is cut off. Sleep apnoea can seriously inhibit regular functioning and is related to high blood pressure, heart attacks and daytime fatigue.
ResMed manufactures continuous positive airway pressure (CPAP) devices to assist patients with sleep apneoa. These devices send a steady flow of oxygen into the nose and mouth during sleep, keeping the airways open and allowing normal respiratory function. The CPAP device involves a machine and a separate respiratory mask, see figure 1.
Less common but equally debilitating is chronic obstructive pulmonary disease (COPD) – a lung disease that causes obstructed airflow and predominantly occurs in smokers. ResMed produces cloud-connected ventilators to treat COPD, depicted in figure 2.

A large addressable market with low penetration
ResMed's addressable market is large, growing and predominantly unpenetrated. ResMed assumes a total addressable market of 1.5 billion people based upon the following estimates:
Sleep apnoea – 936 million people with sleep apnoea world-wide – whether that be obstructive sleep apnoea, central sleep apnoea or a combination of the two.
Chronic obstructive pulmonary disease (COPD) – 380 million people.
Asthma – 340 million people worldwide. While asthma cannot be cured, its symptoms can be managed using ResMed devices.
While we think ResMed are overstating the opportunity by capturing cohorts with very mild symptoms, we do agree that the opportunity is very large.
Using a bottom-up approach, we estimate the sleep apnoea addressable market to be 401 million people, as reflected in the figure below: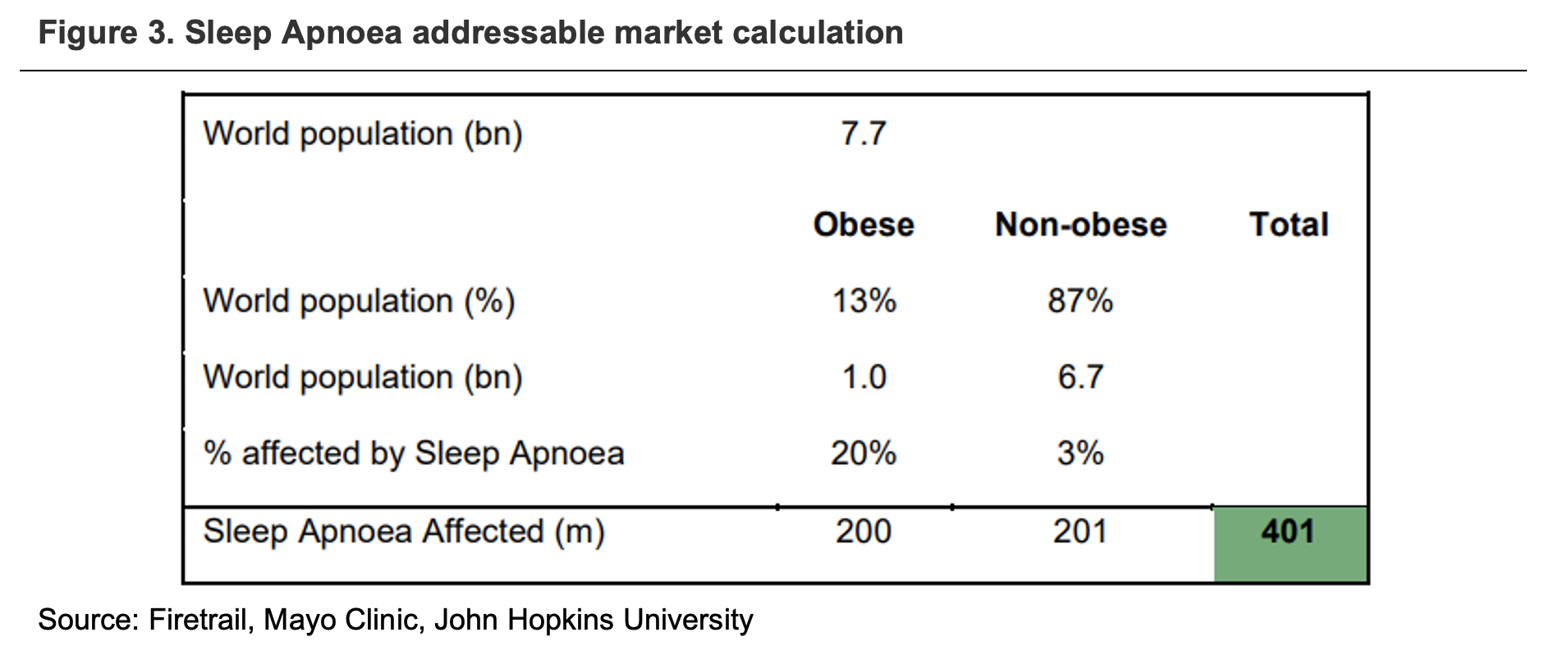 ResMed believes penetration currently sits below 20%, which means more than 80% of the large addressable market is up for grabs.
Putting it together, we see significant growth for ResMed's end market, driven by:
Population growth – more people in the world
Obesity growth – continued growth in obesity and prevalence of sleep apnoea
Penetration – awareness and treatment growing from current <20% levels
An opportunity to increase market share
ResMed's key competitor in CPAP devices is Philips. In June 2021, Philips voluntarily recalled a range of products, including their legacy CPAP range.
The recall was driven by deterioration of the sound abatement foam used in Philips' first generation DreamStation CPAP flow generators and several of its other devices. In total, it expects to repair or replace ~3.5 million devices over the course of 12 months.  The withdrawal of Philips from the market presents a significant opportunity for ResMed to dominate new CPAP flow generator installations over the near term while Philips is busy replacing its existing fleet.
Factoring in the impact of the recall, we expect a 10% increase to ResMed's share of new patient demand in the first half of fiscal year 2022. Moving into the second half, as the impact of chip shortages lessens and ResMed is able to lift production, we see this share increasing further to 72%. There is the potential for even greater upside if ResMed can negotiate a lift in chip supply earlier than anticipated.
This trajectory does however depend on the pace with which Philips returns to market and begins servicing new patients. Currently, Philips expects to be out of market for twelve months, but their market share loss could last longer. Cochlear provides a useful case study – when it initiated a product recall in 2011, its market share remained depressed for almost ten years, showing a long-term impact on market structure. Even after Philips returns, we believe some of ResMed's market share gains will remain.
With mask sales also likely to benefit as more new patients purchase ResMed devices, we see total revenue growth for ResMed in the mid-teens for at least the next two years.
Cloud-based care delivers increased efficiency and a better user experience
ResMed began its venture into cloud-based health informatics with the purchase of information technology group Brightree in 2016. It has since continued to add to its technology offering with the purchase of several other software providers, most recently Snapworx and Citus Health. These acquisitions provide ResMed with a substantial suite of digital solutions across a number of types of out-of-hospital care.
As shown in figure 4 below, the integration of Brightree services into ResMed products has substantially improved patient adherence rates.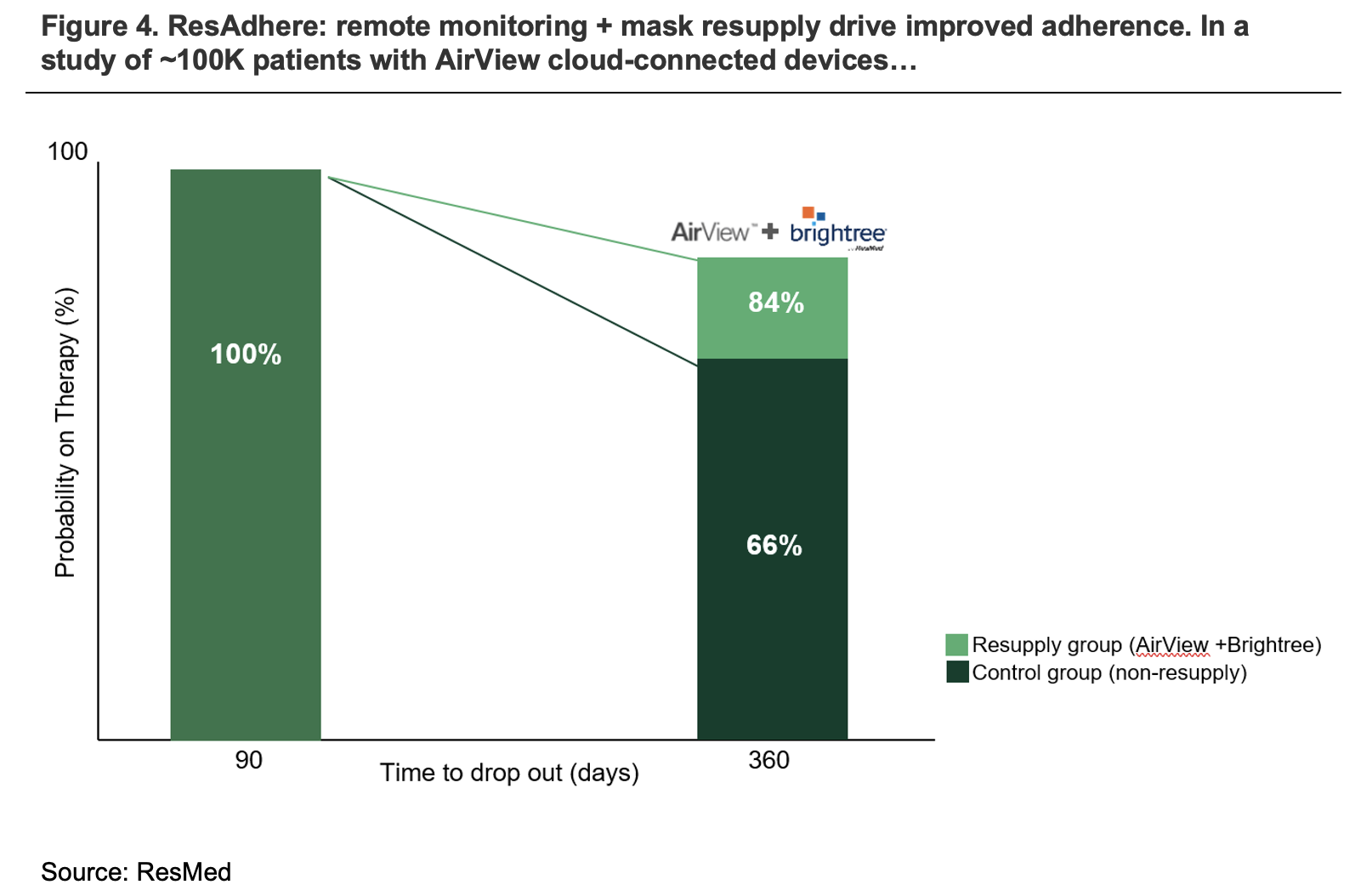 We see scope for ResMed to continue to integrate its SaaS business more closely with healthcare providers over the medium-long term, driving significant value and improved retention.
Conclusion
ResMed is a market leader in the production of CPAP devices with a proven capacity to attract and retain a large customer base. We consider ResMed well-positioned to capitalise on the short-term market disruption caused by the Philips recall and to strengthen its leadership position over the medium to long term. Given this, we believe it remains undervalued by the market. ResMed is a holding in the Firetrail High Conviction Fund and the Absolute Return Fund.
Disclaimer:
This document is prepared by Firetrail Investments Pty Limited ('Firetrail') ABN 98 622 377 913 AFSL 516821 as the investment manager of the Firetrail Australian High Conviction Fund ARSN 624 136 045 and the Firetrail Absolute Return Fund ARSN 624 135 879 ('the Funds'). This communication is for general information only. It is not intended as a securities recommendation or statement of opinion intended to influence a person or persons in making a decision in relation to investment. It has been prepared without taking account of any person's objectives, financial situation or needs. Any persons relying on this information should obtain professional advice before doing so. Past performance is for illustrative purposes only and is not indicative of future performance.
Pinnacle Fund Services Limited ABN 29 082 494 362 AFSL 238371 ('PFSL') is the product issuer of the Fund. PFSL is a wholly-owned subsidiary of the Pinnacle Investment Management Group Limited ('Pinnacle') ABN 22 100 325 184. The Product Disclosure Statement ('PDS') of the Fund is available at https://firetrail.com/products/firetrail-australian-high-conviction-fund. Any potential investor should consider the PDS before deciding whether to acquire, or continue to hold units in, the Fund.
Whilst Firetrail, PFSL and Pinnacle believe the information contained in this communication is reliable, no warranty is given as to its accuracy, reliability or completeness and persons relying on this information do so at their own risk. Subject to any liability which cannot be excluded under the relevant laws, Firetrail, PFSL and Pinnacle disclaim all liability to any person relying on the information contained in this communication in respect of any loss or damage (including consequential loss or damage), however caused, which may be suffered or arise directly or indirectly in respect of such information. This disclaimer extends to any entity that may distribute this communication.
The information is not intended for general distribution or publication and must be retained in a confidential manner. Information contained herein consists of confidential proprietary information constituting the sole property of Firetrail and its investment activities; its use is restricted accordingly. All such information should be maintained in a strictly confidential manner.
Any opinions and forecasts reflect the judgment and assumptions of Firetrail and its representatives on the basis of information available as at the date of publication and may later change without notice. Any projections contained in this presentation are estimates only and may not be realised in the future.
Unauthorised use, copying, distribution, replication, posting, transmitting, publication, display, or reproduction in whole or in part of the information contained in this communication is prohibited without obtaining prior written permission from Firetrail. Pinnacle and its associates may have interests in financial products and may receive fees from companies referred to during this communication.